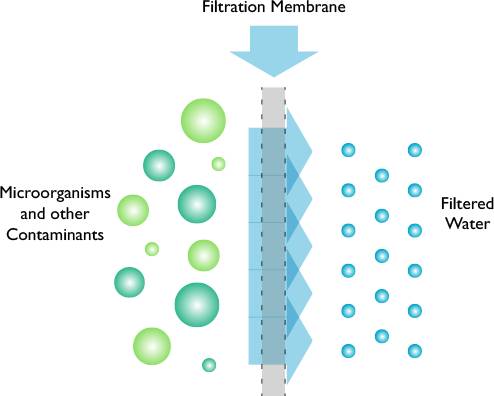 Traditional wastewater systems separate solids from liquids in a gravity settling chamber or "clarifier". At first glance, clarifiers are a simple technology, but they present several operational challenges. Clarifiers often display difficulty maintaining solids separation during periods of peak flows or during biological process upset conditions. They sometimes require the addition of expensive coagulant chemicals to aid in settling and often accumulate scum on the surface due to bulking sludge and floating grease particles. In addition, clarifiers are often followed by tertiary filtration equipment to further reduce effluent suspended solids allowing adequate UV sterilization or simply to meet strict effluent TSS and other nutrient removal limits.
Upgrading to ultrafiltration (UF) membranes for solid/liquid separation solves all the problems that gravity clarifiers present. Peak flows do not result in increased effluent TSS. Settling aids are not necessary and bulking sludge or filamentous organisms have no impact on membrane performance.Furthermore, membrane modules in Innovatreat's miniMBR® provides reaeration, separation, filtration, and, with six logs of bacterial reduction and four logs of viral reduction, provides effluent sterilization all in one final separation process.
Ever increasing demands for cleaner water and water reuse as well as for more efficient and sustainable systems will continue to drive a transition towards UF membranes rather than gravity separation. Let us know how Innovatreat can help you to achieve your OneWater goals.